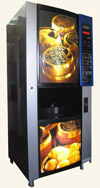 Wittenborg 2800

Maximum output, maximum design with big lighted space for brands.
20 selections, in addition extra plus drink quantity, strength, sugar and milk powder.
Simple direct selecting buttons with illustration.
Easy of acces to inside for easy filling, cleaning, and servicing.


Technical overview:
Height: (scalable) 1835-1855 mm
Width: 781 mm
Depth: 712 mm
Weight: 215 kg
Glass: 700 piece
Power: 220v / 50hz
Product choice:
Black coffee
Coffee with milk
Coffee with sugar
Coffee with milk and sugar
Espresso black coffee
Espresso coffee with milk
Espresso coffee with sugar
Espresso coffee with milk sugar
Hot chocolate
Cream chocolate
Chocolate with milk
Whole nut chocolate
Lemon tea
Soup
Cream cappuccino
Mixed cappuccino
Brasilian cappuccino
Italian cappuccino
Plus two selectable cold drinks. And this products are variable.